The Ethan Allen Firing Range and Camp Johnson comprise about 12,000 acres of land. These military lands, in conjunction with similar military lands located throughout the Unites States, may contain a large amount of historic and pre-historic information about the settlement of North America.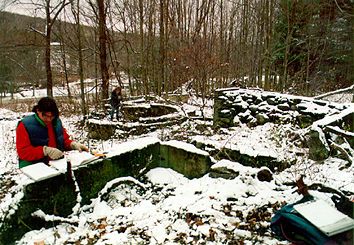 Section 106 of the National Historic Preservation Act requires every Federal Agency to "take into Account" the effects of its undertakings on properties that are listed in, or are eligible for, the National Historic Register of Historic Places, and afford the Advisory Council on Historic Preservation a reasonable opportunity to comment on those undertakings and their effects.
The Vermont State Military Department in conjunction with the University of Vermont (UVM) is currently conducting a baseline survey to identify potential historic and prehistoric sites on Camp Johnson and the Ethan Allen Firing Range. UVM scientists are also developing predictive models of potential archaeological sites using data from test pits, known sites, geology, hydrology, and other information. Test pits taken at Camp Johnson in Colchester, Vermont, are being used to verify one of these models.
Over 100 potential historical sites have been identified on the Ethan Allen Firing Range. Many of these sites have extant remains like chimneys and standing walls. Area maps beginning in the late 1800's and spanning through the early 1940's suggest potential occurrence of 100 farms/residences, 5 craft sites, 9 industrial sites, 2 religious sites, 1 post office, 4 bridges, 5 military sites, 5 schools, 1 store, 1 CCC camp and 1 memorial site. References on the earliest maps indicate some of the structures may date to settlement periods.
After these baseline surveys are complete, the Military Department will be completing 5-year Integrated Cultural Resource Management Plans (ICRMP) for the Ethan Allen Firing Range and Camp Johnson. These plans will be made available in draft form for public review and comment before the plans are finalized.
The University of Vermont's Consulting Archaeology Program is also developing an historic walking trail on the Ethan Allen Firing Range in the West Bolton area. This self-guided trail will be available for educational purposes and takes the hiker back in time to explore places where people once lived, worked, worshipped and played. The 1.4 mile trail will provide a pleasant 1-hour walk. This trail is currently not ready for use by the public, but should be open by reservation in the near future.